Alice is a very humble person, who wants no spotlight upon her, she would rather give than receive. When asked about a dream Alice would say, "no, no not for me, I'm fine."
Tammy, Life Enrichment Coordinator, came up with an idea that would involve children from Sacred Heart School. With some help from Alice's family and the teaching staff at Sacred Heart the dream team went into action. With several months of planning, rearranging dates and what started as an idea to give books to the kindergarten students, soon blossomed into the whole school. There were donations made by team members and friends in honor of Alice for the children. 
With all the moving parts of this project Alice was completely surprised!
In the end there was a virtual presentation to all the Student at Sacred Heart School.  Alice and friends from Clover Ridge Place gathered in the Great Room, watching the Children on the television, Alice's family was able to sneak in and surprise her as well.  With over 150 books containing the following tag.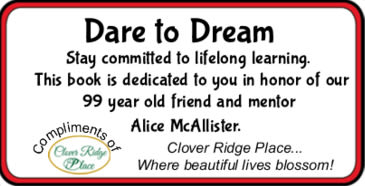 Alice was completely surprised and loved the whole idea.